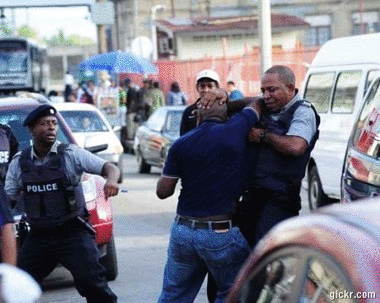 Dunces In Action
Looking at this slideshow, readers could easily think that the scene as depicted by cameras that caught the action live was of Grenada's "Mongoose Gang" or Haiti's "Ton Ton Macoutes" in action in the 1950s and 60s.
But those "gentlemen" are neither Mongoose Squad nor Ton Ton Macoute; they are officers of the Trinidad and Tobago Police Service, our finest Dunces in Grey delivering some bone-crushing blows to the head and torso of an elderly citizen whose only transgression was to call one of them an idiot.
Their shocking response as recorded here represents the type of behaviour that generates public resentment and animosity towards the Police at a time when the Service is in dire need of all the public goodwill it can muster.
This is Trinidad and Tobago 2017, developed country aspirant with attendant ambitions of having a modern, professional law enforcement agency as the "Protecting and Serving" agent of the People, yet we have these dinosaur elements abusing our rights, trampling the Constitution that prohibits that type of abuse.
And at the end of the day, these untrained and probably untrainable hooligan dunces go home to their parents, siblings, wives, children and friends proud of their criminal behaviour and the fact that they "brutalized the hell" out of a middle aged man.
Then, when in different circumstances, some some young shot-gun toting, straight shooting, Laventille punk blasts one of them into the next century in an act of karmic justice, they would be quick to appeal for assistance from the same public that they routinely brutalize. Sadly, this is all part of the PNM's brutal legacy to this nation.